Hello All!
The "Super Stylish" Jodiann (my words not her's) has done it again, this time a full blown kit!  And I gotta say (well not really "gotta"
no one said I had to, he-he) that this one is purrrdyyy!  Check this out: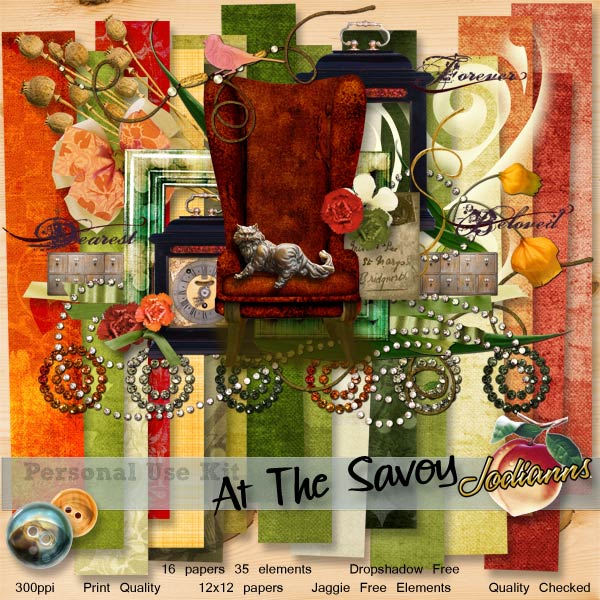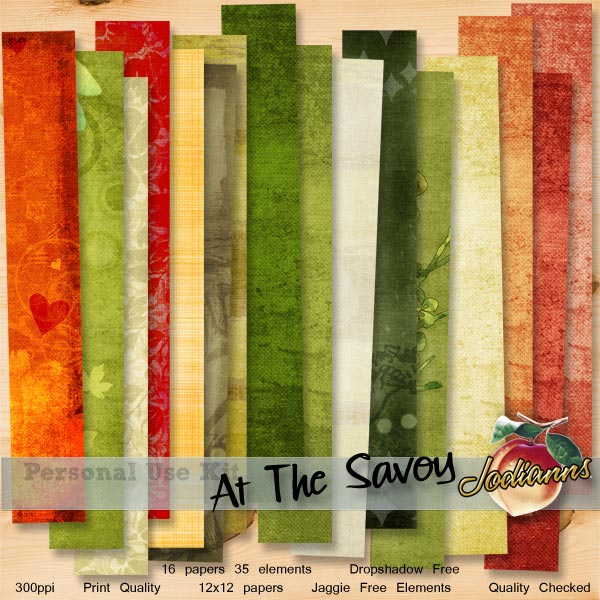 Says the Jodiann and so say I:
"Rich Colors, slightly distressed fabrics take us back to the Savoy!
Created by Jodiann Cates using Photoshop CS3.
Drop Shadow Free.
Jaggie Free.
Quality Checked.
This purchase contains:
16 papers including florals, soft grunge solids, plaid, and images of cherubs, hearts, diamonds, leaves, and circles.
35 Elements
5 Carnations in Red,Russet,Peach,Green,Sage
1 Yellow Trumpet Flower with Leaves
1 White Forget Me Not Flower
3 Wordart: Dearest, Beloved, Forever
3 straight ribbons, 2 green, one cream
2 Jute Strings, one with beads, one plain
1 Glossy Gold String
2 Buttons, one green, one gold
2 Leaves
1 Clock Frame
1 Clock
1 Dried Seed Pods
1 Dried Seed Pods with Bow
1 Patterned Bow
1 Row of Drawers
1 Vintage Postcard
1 Bird
1 Bronze Cat
1 Vintage Frame, Cream and Green
1 Distressed Fabric Chair
1 Distressed Fabric Chair with Floor Shadow
1 Knotted Ribbon "wings"
1 Soft Swirl in Cream
1 Silver and Gold Rhinestone Swirl
1 Line of Multi-color Rhinestone Circles
Some of these elements were available in February 2010 under the name "Forever After" a mini kit no longer available."
Here's a little something I made with it.
I just love doing heritage layouts!
So make sure you run on over and pick it up now while it's on sale for $3.50 (that 2 bucks off!!!)
See you again soon!!!